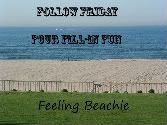 Feeling Beachie's 100th (!) Four Fill-in Fun...
This week's statements:
1. I can't believe____
2. I never liked the TV Show _____
3. If I were a ____________I would most definitely __________.
4. I ____________ when I ______________
My Fill-ins:
1. I can't believe
my other blog was summarily deactivated; WordPress don't believe in second chances!
2. I never liked the TV Show
format that includes an incessant laugh track. Please don't tell me when to laugh.
3. If I were
a rich man
, I would most definitely
build a staircase going nowhere just for show. (Fiddler on the Roof)
4. I
can't wait for next week
when I
will have a whole new self-hosted blog to play with.
Cheers,
Uttley
ps. Please check out the previous post about Playing the Genetic Lottery by Terri Morgan - She's giving her ebook away free!